The history of the East Anglian Railway Museum is one of hard work, sweat and steam, as a small number of dedicated enthusiasts and volunteers strived to ensure the survival of an important piece of our industrial and cultural heritage
The Stour Valley Railway Preservation Society was initially formed in 1968 with the aim of preserving the recently closed stretch of line from Sudbury to Long Melford, a distance of some three miles. However, lack of funding meant this project was ultimately unsuccessful and the line was lost.
The following year the society re-established at Chappel and Wakes Colne Station after securing a lease from British Rail for the derelict goods yard, goods shed, signal box and station buildings. Members were faced with a daunting task – the site was without electricity and the track had been dismantled in preparation for removal.
Despite this, the first public "steaming" took place just three months later, when the only operational locomotive carried passengers along a short stretch of re-laid track. The hard work continued for many years as buildings were restored the teams took delivery of a miscellany of rolling stock and locomotives.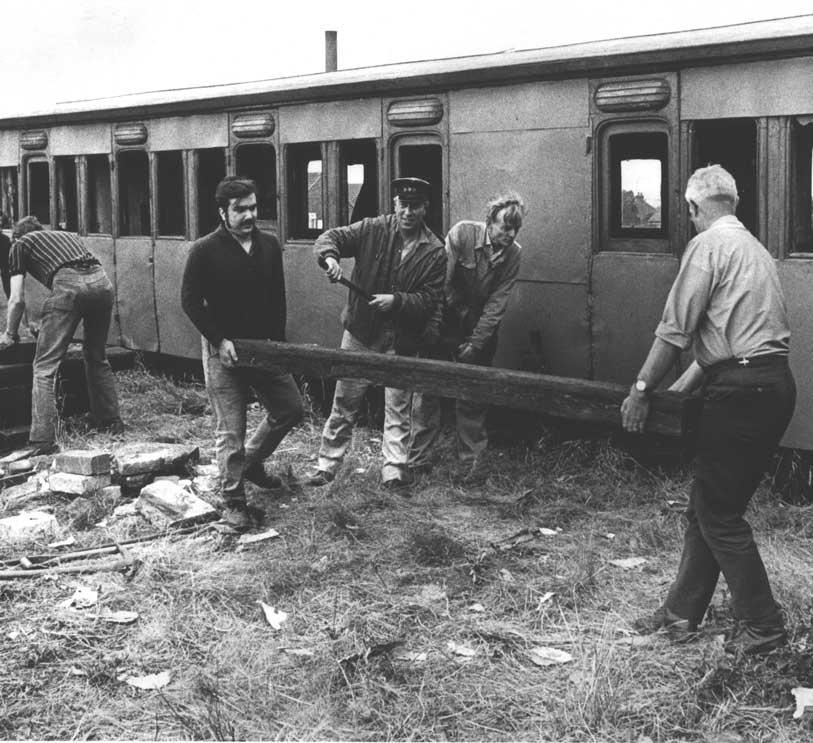 In the early 1980s the Chappel site changed to become a public attraction, or "living archive", for the benefit and enjoyment of the community.
In 1986 the society officially became the East Anglian Railway Museum to confirm its focus on representing railway history of the Eastern Counties rather than just operating trains.  The following year we were (finally) able to purchase the Chappel site from the British Railway Property Board, part funded by the sale of a locomotive to a consortium of members.
With the future of the site assured, fund-raising continued by operating Steam Days along the length of the goods yard.  The East Anglian Railway Museum was granted charitable status in 1991 and became a Registered Museum in 1995.
The Museum remains dedicated to the conservation of a historically significant representation of our regional railway heritage, largely through the efforts of volunteers.  As a result, thousands of visitors every year are able to enjoy seeing a working museum and witness a slice of "living history".